07 Jun

Match Preview: ASC vs. City of Angels FC – June 8, 2019
Home Sweet Home
ASC San Diego is back at Mission Bay Stadium this Saturday at 7 p.m. to play against City Of Angels FC.  ASC is eager for the chance to secure 3 more valuable points in NPSL regional play with hopes of seeing postseason action. With only 3 regular season matches left each one is a must win. Come catch your hometown town soccer heroes as they reach for their dream.
Last week's away match against rival Temecula FC was a close but disappointing loss. ASC played dominantly all 90 minutes keeping things 0-0 through halftime. They opened scoring quickly after the break giving them a short lived lead. But it just wasn't enough as the Quail managed put 2 between the pipes before the final  whistle and grabbed a 1-2 win.
Saturday's opponent, City of Angels FC has seen their fair share of struggles this season having won only 3 matches up to this point. ASC has definitely had better go of things. With 6 of the last 8 in the W column, they are comfortably in 4th place in the Southwest region and very few points sit between them and top 3 placement. But head coach Ziggy Korytoski and his men are definitely not getting ahead of themselves by looking past City of Angels. Their opportunity for a postseason berth is 100 percent within reach and there in no room for error.
Charity Partner
Each home match played,  ASC San Diego takes $1 from every ticket sold and donates it to a local charity. This week's donation will go to Big Brothers Big Sisters of San Diego county. ASC is proud to be working with such an amazing organization for a 2 years in a row.
Big Brothers Big Sisters makes meaningful, monitored matches between adult volunteers ("Bigs") and children ("Littles"), ages 7 through 18, in communities across the country. They develop positive relationships that have a direct and lasting effect on the lives of young people.  Please visit http://sdbigs.org to see information about this and all of the great things they do.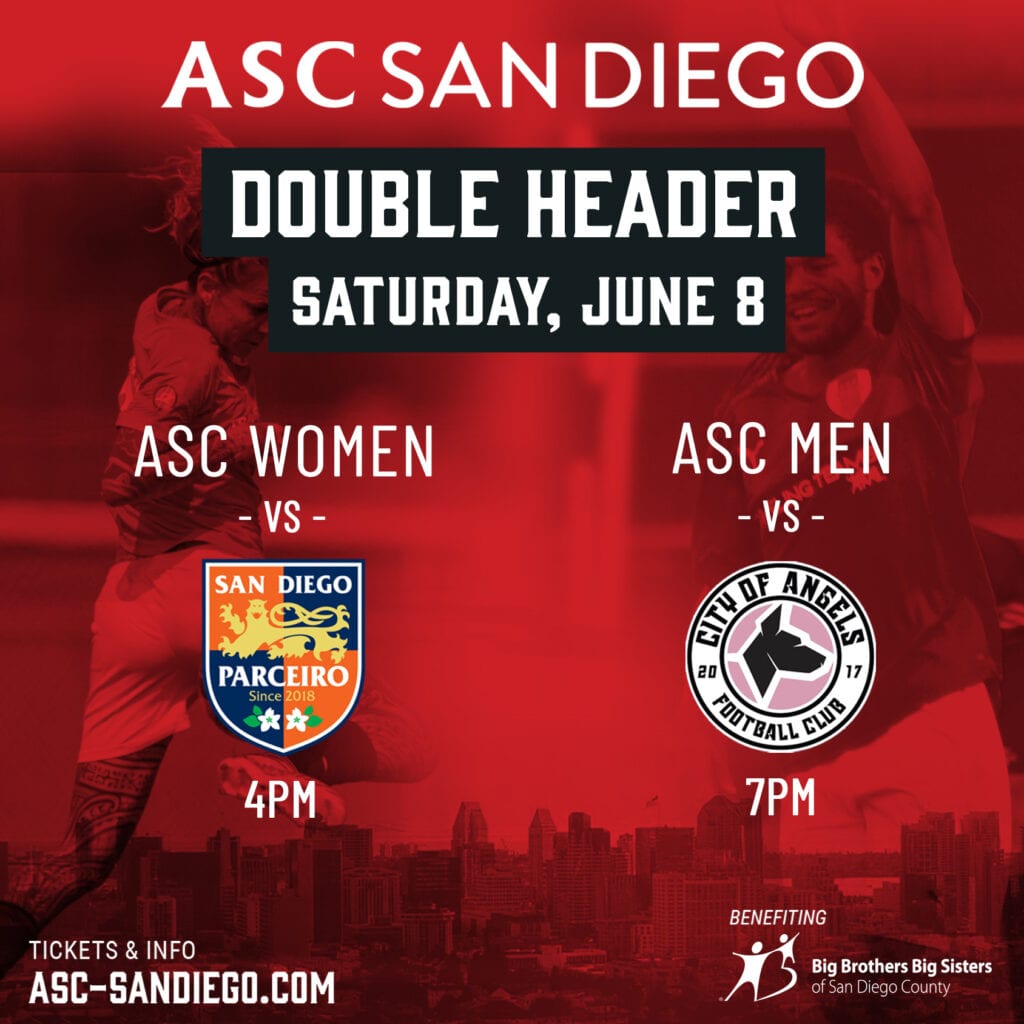 —– MATCH PREVIEW PRESENTED BY SOCCER AMERICA —–