26 Apr

Match Preview: ASC vs. FC Golden State – April 27, 2019

After a three week break in the match schedule, ASC San Diego is ready to get back to work on the pitch. This Saturday, April 27th ASC will take on FC Golden State in a key a matchup in the race to the playoffs.

The last meeting between these two teams resulted in an unfortunate ASC loss away at Rio Hondo Stadium. The team has been focused to exact revenge and earn 3 crucial points back  as they head toward the postseason. Join us at Mission Bay Stadium at 6:00 p.m. sharp to cheer on San Diego's team.
Before the break
Prior to the mid season off time, ASC San Diego earned a 1-0 victory on the road versus Oxnard Guerreros FC. In a tough match that showed the defensive abilities of both sides, neither team was able to find the back of the net throughout the entire first half and most of the second. Veteran keeper Jean Antoine had several opportunities to showcase his skills including a lightning fast reaction that prevented a Guerreros header from making it past the pipes.  
The 66th minute was the golden moment for the men in blue.  Chris Gardea gets taken down in the box and ASC is awarded a penalty kick. Team captain and defensive stalwart Kuba Waligorski who has earned himself a reputation as a PK specialist in the NPSL, sent the Oxnard keeper the wrong way tucking the ball into the lower left corner. The skipper's effort proved to be enough for ASC San Diego to claim all three points on the road as well as an impressive 4th cleansheet on the season.
Newest Team Member
ASC San Diego is proud to announce they have shored up the front line with the addition of former youth National Team player forward Elija Rice. He was the top scorer in the country while playing for the  U-18 development team with a massive 18 goals in 15 matches. He is a welcomed addition who will add depth to an incredibly talented ASC team. Come welcome him this Saturday!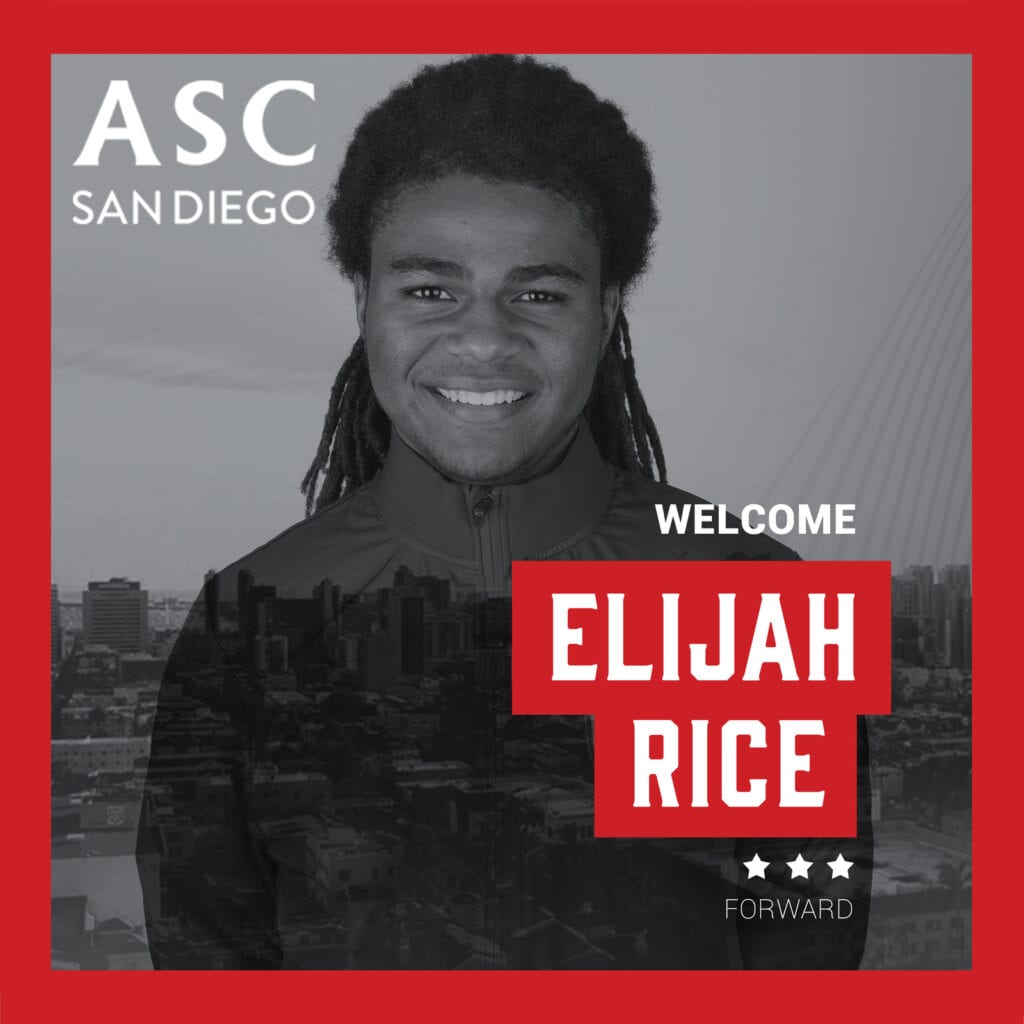 Charity Partner
Each week ASC San Diego partners with a local charity in order to do their part to enrich the community that supports them season after season. One dollar from each ticket sold for home matches goes directly to the selected charity.
This weeks charity is the Surfrider Foundation. This amazing group is dedicated to the protection and enjoyment of the world's ocean, waves and beaches through a powerful activist network. They ensure clean water, healthy ocean and coastline, and accessible beaches for all to enjoy by finding lasting solutions to the threats our ocean faces. Please go to www.Surfrider.org for more information about this incredible foundation.
—– MATCH PREVIEW PRESENTED BY SOCCER AMERICA —–