14 Jun

Match Preview: ASC vs. OCFC – June 15, 2019

This Saturday at 7 pm ASC San Diego will be in Irvine for one of the most important matches this season against Orange County FC. The race for the NPSL postseason is hotly contested right now in the Southwest Conference and the last two matches for ASC are absolutely must win games as San Diego's team looks to extend their season to July.  All fans will be granted free admission to the match this Saturday, and should not be missed.

Last Saturday, in front of their home crowd, San Diego's team played with flawless precision and produced a huge 6-0 victory against league newcomers City of Angels FC. The 3 points earned with the win moved them one step closer to achieving their goal of postseason play. Head coach Ziggy Korytoski and the men will try to harness the energy and excitement from last week and parlay it into a win against their nemesis and finally crack top three placement in their region this week.

ASC  San Diego and Orange County FC have a storied history and are fiercely competitive rivals. The 2018 season culminated with the two teams meeting in the playoffs leaving everything on the pitch as they sought advancement to the next round. Sadly ASC succumbed and ended the season in a 1-2 loss. ASC will certainly be looking to exact revenge on their rivals to the north. However, this will be no easy task, facing one of the recognizable amateur clubs in the country after making a historic run in US Open Cup beating out 2 USL Championship sides on their route to the 4th round where they took MLS giants LA Galaxy to a scoreless first 45 minutes before giving up 3 goals in the second to end what was the story of the tournament. Both have their eyes on the prize again this season and as things stand right now there is only one point between ASC and their goal of postseason play and only two points between them and second place team that happens to be this week's opponent, Orange County. Both teams will definitely be bringing their "A" game. This match will be one for the ages as Saturday's duel could potentially be the last match between the two sides as ASC San Diego will be moving into NPSL Founders Cup play after the conclusion of the 2019 season.

ASC  San Diego's final match of the regular season is at home at Mission Bay Stadium on Saturday June 22 at 7 pm against the Oxnard Guerreros. It is the second match in the last double header of the season. ASC San Diego Women play the first match of the night as they square off against LA Galaxy San Diego starting at 4 pm. One ticket – two incredible matches.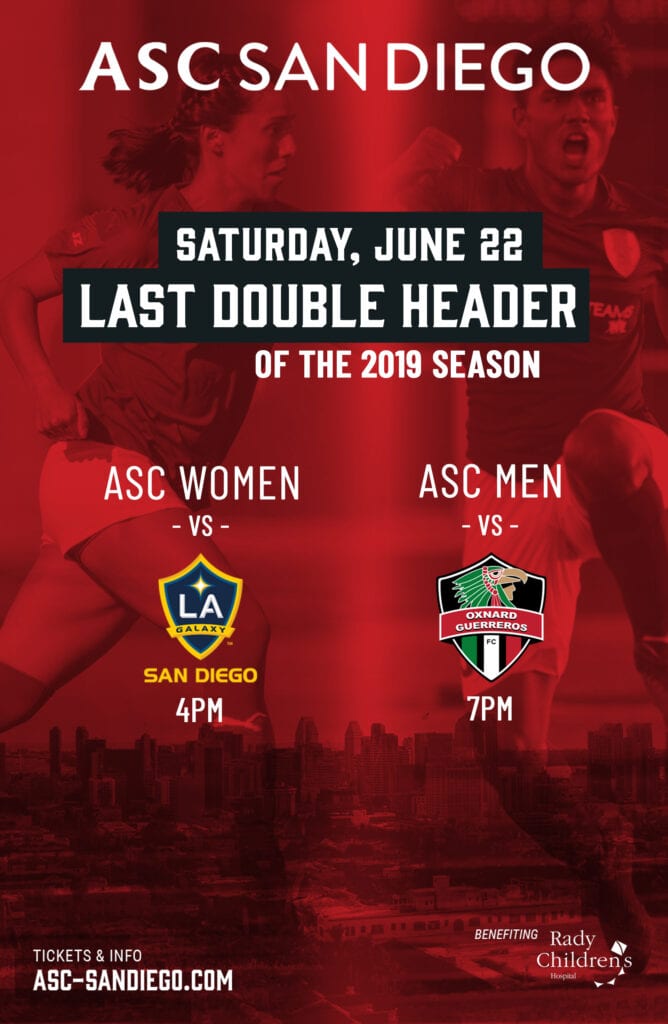 —– MATCH PREVIEW PRESENTED BY SOCCER AMERICA —–