21 Jun

Match Preview: ASC vs. Oxnard Guerreros FC – June 22, 2019
Home stretch
This Saturday will be the last home double header and ASC San Diego's final match of the 2019 NPSL regular season. They will meet the Oxnard Guerreros at 7 p.m. in Mission Bay Stadium for what will undoubtedly be an epic match. Last time out ASC San Diego took all 3 points off a 1-0 victory in Oxnard. ASC will be looking for a similar result against the Guerreros to keep the hopes of advancing to the postseason alive. There is no other option than victory. Mistakes cannot be made. This is a must win, must see match.
The NPSL Southwest Conference has seen a constant jockeying for the top three positions by the same four teams throughout this season.  Each week presenting the opportunity for upheaval as the point differential between the four has remained razor thin. Up until last week's stunning 2-0 victory in Irvine over arch rivals Orange County FC, ASC San Diego's has occupied the 4th position for most of the season. Now, ASC sit just 1 point ahead of OCFC in the final playoff spot heading into Saturday's match.
ASC finishes their regular season this week but The two teams with hopes of pushing them out of a playoff berth  (FCAZ,OCFC) each have two more matches before the final talley can be counted. After their inevitable victory this week, ASC will continue training as they see how the final matches play out,  preparing for their postseason dream.
Charity Partner
ASC San Diego's vision includes being a vital component of their city. One way they achieve this is through the charitable donations they make  every home match the team plays. Each of those matches a charitable partner is chosen and one dollar for every ticket sold that night gets donated directly. This week's partner is Rady Children's Hospital whose mission is to restore, sustain and enhance the health and developmental potential of children through excellence in care, education, research, and advocacy. Please visit www.rchsd.org to learn more about this amazing organization.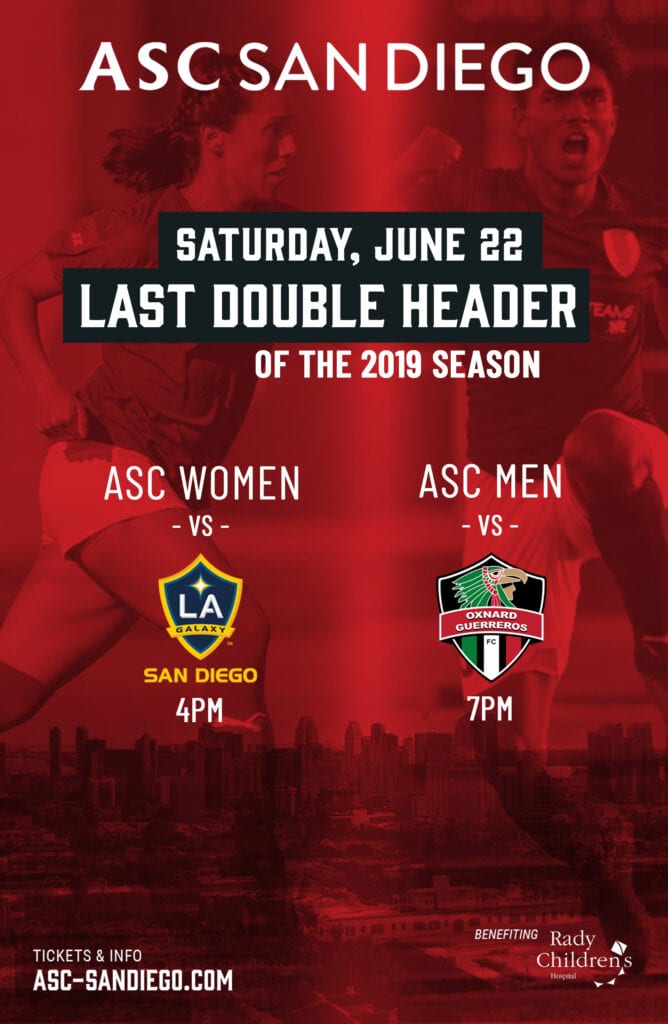 —– MATCH PREVIEW PRESENTED BY SOCCER AMERICA —–