01 Mar

Match Preview: ASC vs. Riverside Coras – March 2, 2019
First home match of 2019!
San Diego soccer is back! The 2018 South Western Conference champs will be kicking off our regular season opener this Saturday, March 2nd vs Riverside Coras at 6PM! ASC San Diego and Riverside will be battling it out at Mission Bay Stadium as both teams look to jump out to a great start to the 2019 campaign. With a strong returning lineup this season, and with Ziggy Korytoski returning at the helm for his 4th season as ASC San Diego's head coach, ASC is expecting to make another strong run to the playoffs.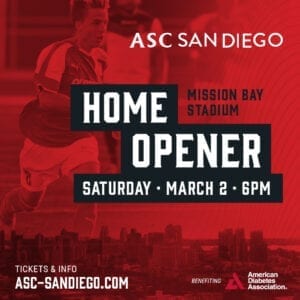 Notes from the road…
ASC will be looking to continue to improve off a tough season opener vs Arizona FC. The two Southwest powerhouses stood level after 90 minutes, drawing 0-0. Although unable to secure the 3 points in Mesa, Coach Ziggy was impressed with his team's defensive efforts, "at the end of the day I was very pleased with the performance on the road, in the opener, against a team that should be competing for the league." The gaffer was delighted by ASC's strong build up play, which helped ASC San Diego dominate possession, creating multiple chances throughout the game. Unfortunately ASC San Diego's efforts were left unrewarded as they were unable to finish in the final third.
Charity Partner…
ASC San Diego is fully committed to its impact off the field. This is ASC donates $1 of every ticket sold to our Charity of the Game! With Classy matching every donation with a $1 of their own, we are so proud of awareness and funds we have been able to raise for our various charity partners.
Through the Charity of the Game program, in 2018 ASC San Diego supported local charities such as San Diego Center for Children, Rady Hospital for Children, Surfrider Foundation, Teach for America, PCI, Promises2Kids, USO, Big Brothers Big Sisters and World of Children.
The charity partner for this first home match of the 2019 season is the San Diego chapter of the  American Diabetes Association. They lead the fight against the deadly consequences of diabetes and fight for those affected by diabetes. They will be hosting several events in the San Diego area in the upcoming months  for more information go to www.diabetes.org or call 1800-DIABETES.
ASC & The Sockers: two for one weekends!!
Attention to all soccer fans…
We know you can't get enough  of San Diego soccer! This is why we are proud to announce we have partnered with the legendary San Diego Sockers of the MISL where we will be featuring back to back weekend combination tickets! Just one ticket will get you into both the Sockers and ASC San Diego games on select dates! Thanks to this amazing collaboration, we are proud to provide the best of soccer that San Diego has to offer!
You may purchase our weekend special ticket here. ticket and come out and support your local Professional Arena Soccer Team, then do it all over again the next day by attending a NPSL match to cheer on your local outdoor Professional Men's Soccer Team, ASC San Diego.  
The Combo Dates are as follows:
Sockers – March 1 @ 7:35pm // ASC – March 2 @ 6:00pm

Sockers – March 15 @ 7:35 pm // ASC – March 16 @ 6:00pm

Sockers – April 13 @ 7:05pm // ASC – April 14 @ 5:00pm
**Please note this offer is only valid if purchased through this site, not available at the box office. All tickets are non-refundable**
—– MATCH PREVIEW PRESENTED BY SOCCER AMERICA —–