10 May

Match Preview: ASC Women Home Opener

Sunday May 12th is a special day for ASC San Diego. With a doubleheader for fan's viewing pleasure,  the first match of the day marks the start of the first season for ASC's newest faction, the ASC San Diego Women's team.  Kick off starts at 2 p.m. at Mission Bay High School Stadium. There will also be food trucks, music, and a giveaway prior to the start of the match for families to enjoy.  After the ASC Women's match, the second of a doubleheader starts at 5 p.m. with the ASC Men's team taking on FC Arizona as they both seek to secure 3 regional points and possibly move up the rankings and earn a berth in the postseason play. Come be a part of San Diego soccer history this Sunday.

BUY TICKETS FOR HOME OPENER & DOUBLE HEADER
First Meeting
This Sunday ASC San Diego will be on their home pitch at Mission Bay Stadium for their premier match in the WPSL versus the San Diego Surf. Both teams will be playing among five teams total in the Pac South's San Diego division. Sunday also marks the start of the regular season. This match is sure to be a non-stop thriller as both teams vie for the first win in their regional race to the postseason.  The ASC San Diego Women's team is comprised of dynamic members that have competed on all levels of play, including youth, collegiate and international.
ASC's head coach Eloisa Borreguero has been involved in soccer as a player and coach both internationally in her home country of Spain as well as here in the United States.  She has earned many coaching certifications and accolades throughout her career. These along with practical experience she has gained will prove to be a winning combination.  She is a welcome member to the ASC coaching family.
Launch Party
Join Natasha Kai and her team mates for a meet & greet tonight 7PM at Woodstock Pizza in Pacific Beach. Players & coaching staff from both teams will be there, don't forget to stop by and celebrate with us! Giveaways, raffles, merchandising and free pizza & drinks !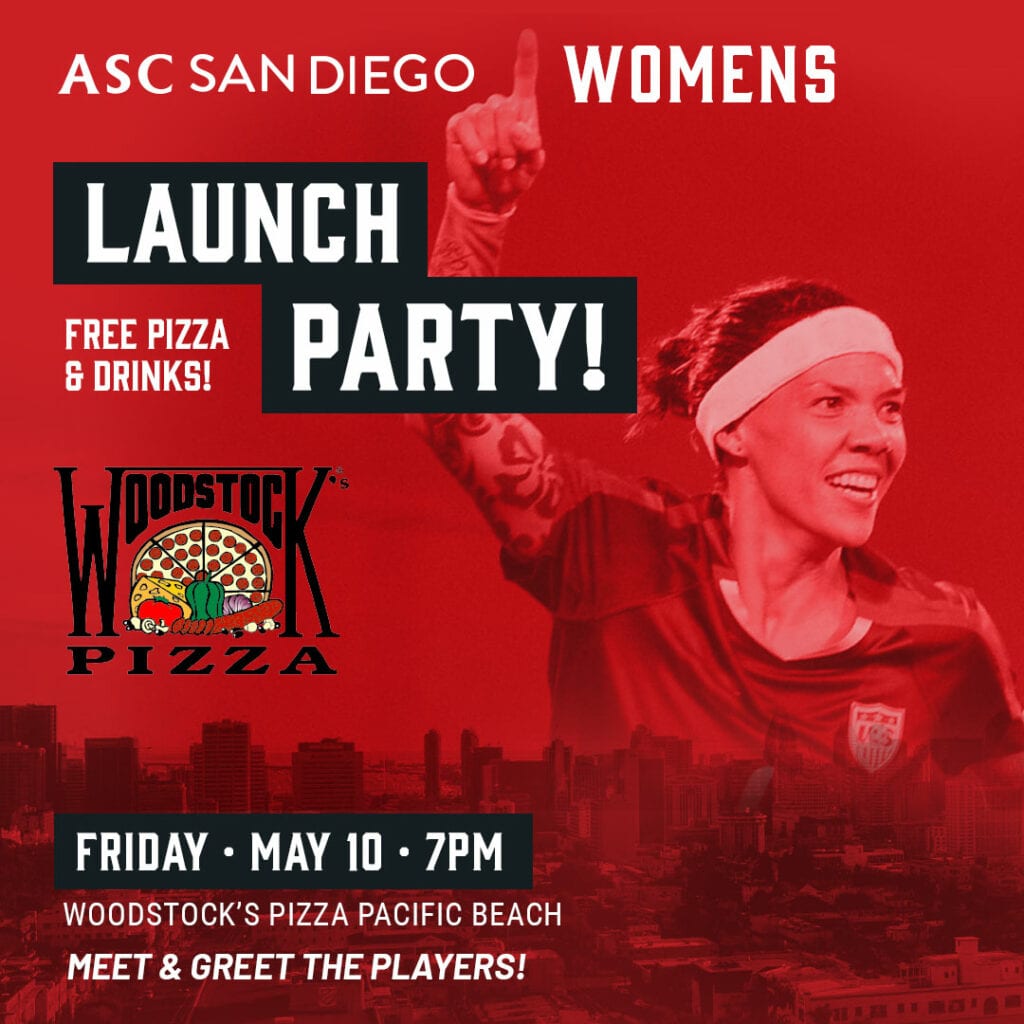 Charity Partner
Each week ASC San Diego partners with a local charity, donating $1 from every ticket sold to each and every home match. These partners are working hard to help locally within many areas including helping families, children, hospitals and the environment.  ASC prides themselves on being very civically minded and striving to be ingrained in their amazing San Diego Community.
This week's partner is Junior Achievement.  JA's believes every child deserves an education in economics and finance  Their goal is to ensure young people are prepared for their future. JA teaches them how to get a job, start a business and how to manage money. JA programs reach every ethnic and economic demographic. Please go to https://www.jasandiego.org/about.html to see all the great things this group is doing for San Diego.
—– MATCH PREVIEW PRESENTED BY SOCCER AMERICA —–