18 May

Match Preview: ASC Women vs. LA Galaxy SD – May 18, 2019

After a hard fought inaugural match last week, ASC San Diego is on the road this weekend. On Saturday May 18th, they will Play LA Galaxy San Diego at Mufficci field in Carlsbad, California.

Last week Mission Bay High Stadium saw ASC San Diego Women play a thrilling first match of the season against San Diego Surf. ASC Fought back valently from a 4-1 deficit but were unable to find the 4th goal to share the spoils of the game. The match started with both teams coming close to opening the scoring, passing up good chances as they settled into the new season. Surf were the first to find their shooting boots with a dynamic breakaway that left ASC Keeper Kori Butterfield 1v1 and Amber Tripp tucked the ball away calmly to open the scoring. ASC was able to equalize shortly after when Nikolina Musto stepped up to score the first ever goal In ASC San Diego's Women's History, with a perfectly placed Penalty.

That would see the end of the scoring for the first half, as both teams took a well earned rest from Mid May Heat.

After the Halftime break, Surf came out firing and driving at the ASC defence with pace and power, 3 quick goals turned the tie in their favour with Amber Tripp grabbing her second followed by Molly Myers and Brooke Wilson opening their 2019 accounts within 6 mins of the second half opener. ASC rallied and did not let their heads drop, shoring up their defensive efforts, the ASC ladies turned up the heat offensively, looking to gain an advantage before the final whistle. Forward Natasha Kai was able to get her season underway with 2 goals and can feel hard done by to have not earnt a 2nd Penalty for ASC San Diego when she rounded Surf Keeper Taylor Washington and was brought down, but the referee waved away the claim, to the dismay of the home fans in attendance. Kai would again hit the back of the net, but was denied by the officials, the assistant calling offside. The final whistle blew and it was 3-4. A valiant effort in their premier outing, and a taste of the exciting soccer to come this season.

Join the team next week as they return home to Mission Bay High Stadium when they host the San Diego Sea Lions at 4 p.m. ASC San Diego men will play immediately after at 7 p.m. for a fun Saturday double header.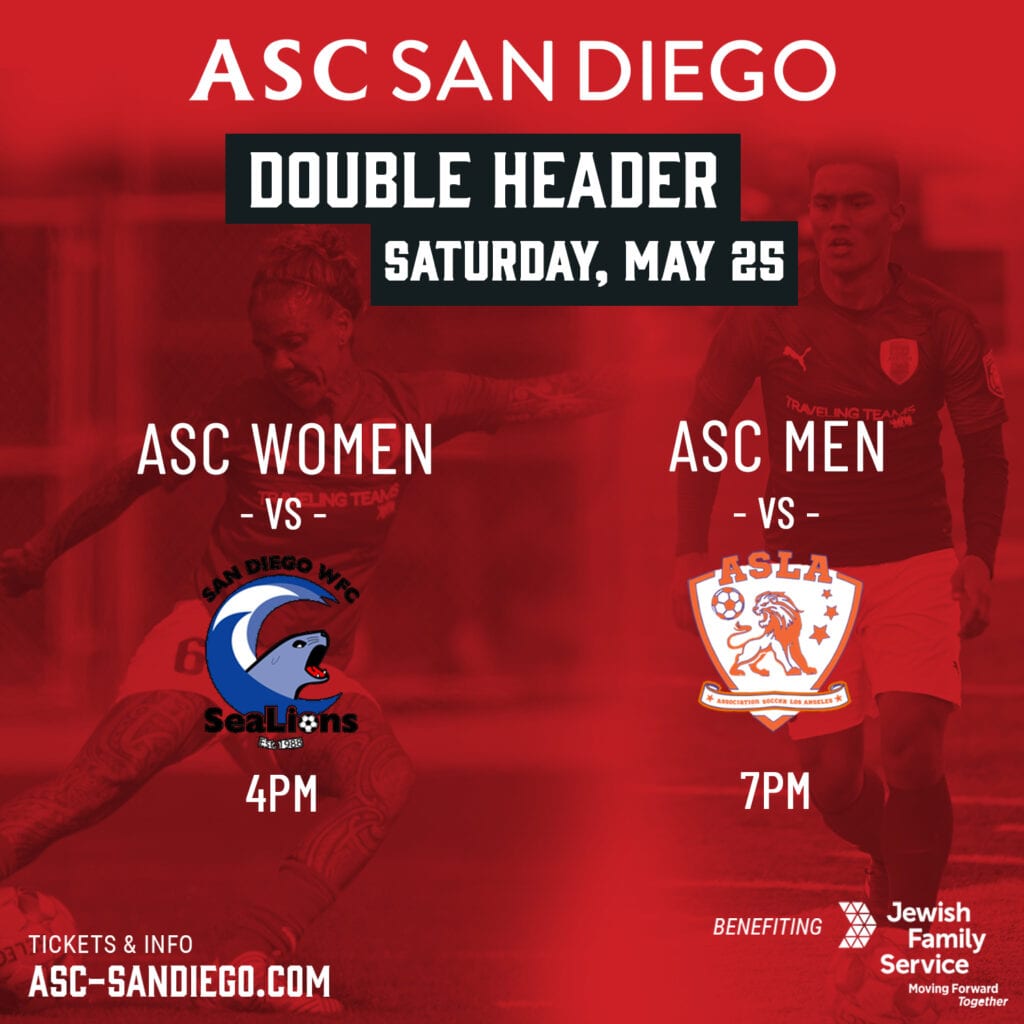 —– MATCH PREVIEW PRESENTED BY SOCCER AMERICA —–