24 May

Match Preview: ASC Women vs. San Diego Sea Lions – May 25, 2019

This Saturday, ASC San Diego Women is hosting the San Diego Sea Lions on their home pitch at Mission Bay Stadium. The match starts at 4 p.m., which will be the start on an exciting doubleheader as the ASC Men's team will be facing A.S. Los Angeles at 7 p.m. 1 ticket grants you attendance to both matches!

In their first season of play in the WPSL, ASC San Diego Women are off to a rocky start as they took tough 1 goal losses in their first two matches this season. The challenges of bringing together a group of different players to a new team, a new coach, and new system have not been easy for the WPSL newcomers. But as the team continues to focus, move forward, and play together, it will only be a matter of time for San Diego's team to become a WPSL powerhouse. Last weekend ASC San Diego took an unfortunate 1-2 loss on the road against LA Galaxy San Diego in their second ever match. Despite finding a late first half equalizer, ASC was not able to take the momentum into the second as they fell victim to a 66th minute strike. This lit a fire under ASC as they went on the offensive attack trying to even the score before the whistle. ASC keeper Kori Butterfield nearly found forward Natasha Kai for an equalizer in the 71st minute.  The ASC ladies kept up the pressure all the way through the match as the final whistle blew for 1-2 result.

In just the team's third ever match, ASC San Diego will be looking to secure a home victory in what would be a historic game against WPSL heavyweights San Diego Sea Lions. The San Diego Sea Lions are one of the most storied clubs in US women's soccer history. Founded in 1988, the Sea Lions are internationally recognized for their achievements on the field and have played against the Mexican Women's national team on two occasions. Enjoying a first win in team history over the likes of the Sea Lions could be crucial for ASC San Diego as they look build momentum throughout the season. Although the Sea Lions are heavily favored in Saturday's matchup, the West Region powerhouses have yet to take the field this season. The lack of valuable game experience could create the perfect opportunity for the WPSL newcomers to earn their first win in team and league history. This matchup will surely be a thriller as the WPSL's rising stars face-off against league veterans on Saturday.
Charity Partner
ASC San Diego strives to be an enriching source and civic leader in their community. The team members and ASC associates spend time between matches and training sessions, visiting area schools and participating in local charitable events looking to lead by example.
In addition, at every home match ASC San Diego donates $1 from each ticket sold and donates it to a local charity. This weeks charitable partner is Jewish Family Service of San Diego. Following the belief that with hard work and the right connections – to knowledge, resources, and supportive relationships – anyone can change their life, JFSSD offers many different services throughout San Diego including services to immigrants and refugees. They work closely with the San Diego Rapid Response Network (SDRRN). It is is a coalition of human rights and service organizations, attorneys, and community leaders dedicated to aiding immigrants and their families in the San Diego border region. Please go to their respective websites to see all the good they are doing. www.jfssd.org and www.rapidresponsesd.org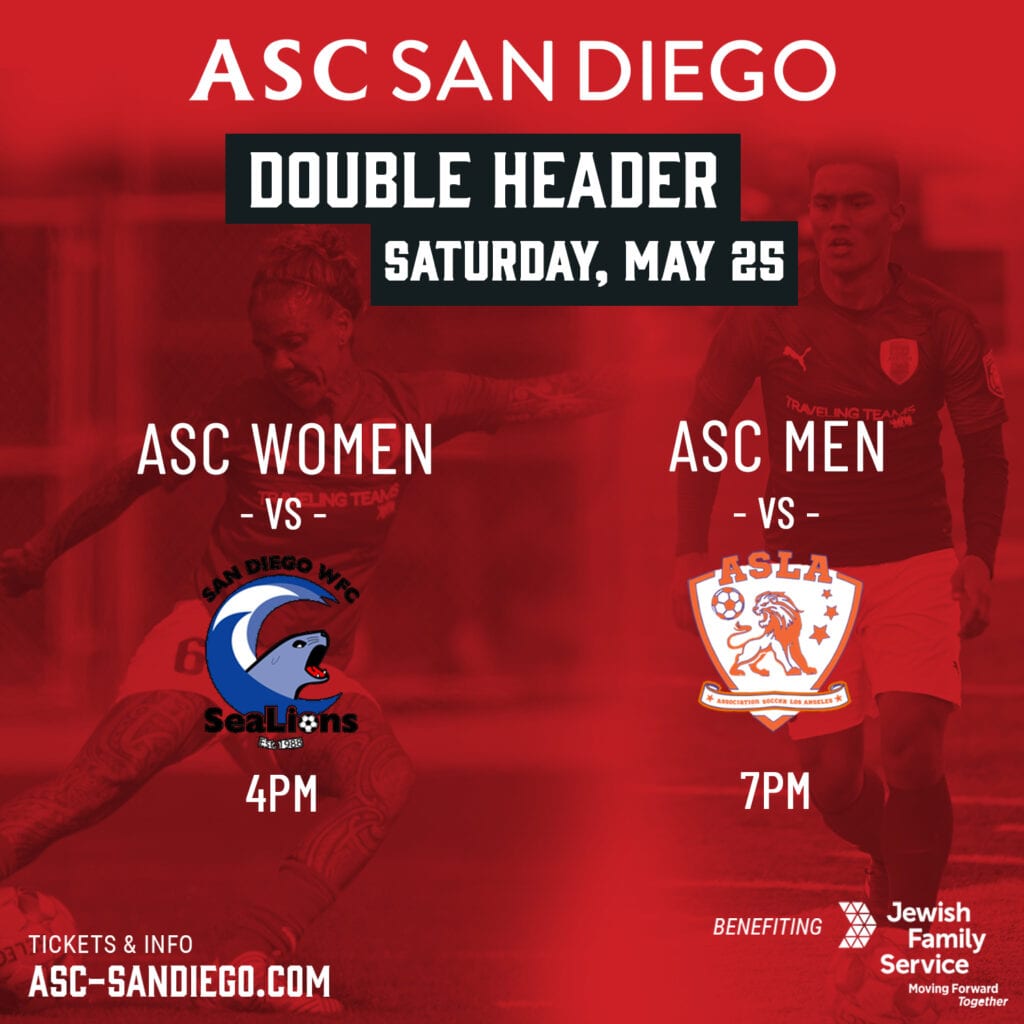 —– MATCH PREVIEW PRESENTED BY SOCCER AMERICA —–