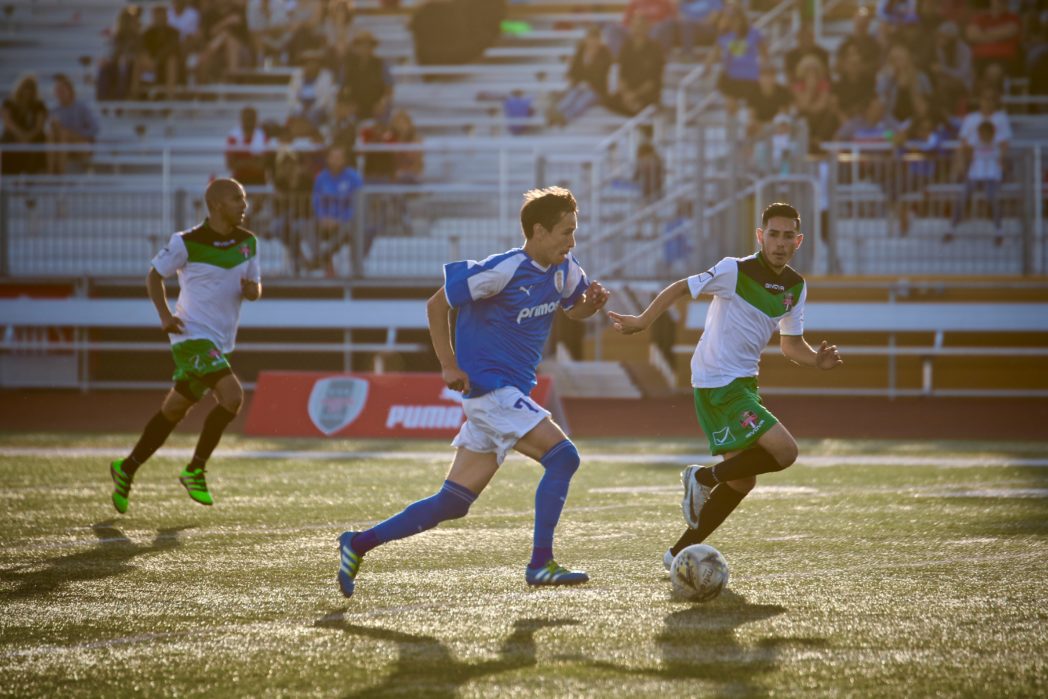 16 Apr

Match Recap: ASC Defeats Oxnard Guerreros 2-1

April 16th, 2018, San Diego, CA – It was another idyllic day at Mission Bay Stadium, as ASC squared off against the 4th place Oxnard Guerreros. Despite it being early in the season, the 2-1 win was an important one for the hometown club, and ASC is now in control of their own destiny – firmly in 2nd place, and tied with the first place FC Golden State on the all-important metric of 2 points per game average.

It was predicted to be a tough, physical matchup, and both teams absolutely delivered. The play from both sides was quick and well-controlled, with short, rapid passing that worked the ball back and forth laterally across the pitch, searching for a breakout opportunity.  Fans waited longer for a goal than in any other game this season, but the deadlock was finally broken late in the 22nd minute when star midfielder Eric Avila found an opening.

It was a great team play, with a great long ball from midfielder Luis Cardona, headered by Eric Avila, and controlled by last week's hero, Sean Callahan.  Callahan passed the ball wide to a streaking Dallin Cutler. Cutler dished back to Avila, who controlled it, and launched a high cross-cage screamer past the leaping Guerreros keeper.

Oxnard's physical play paid off less than 10 minutes later, when a quick counterattack led to a Jean Antoine yellow just outside of the box.  ASC formed a wall, but the Guerreros found a way around, with a strong, curving shot that zipped just inside the far post to tie the game at 1.

Despite going into halftime with the score even, ASC never lost faith.  They came out strong in the 2nd half, with excellent ball control and aggressive posture.  In the 65th minute, Michael Turner launched a long pass to a streaking Garrett Heine, setting up some scoring opportunities that were well-defended by a stifling Guerreros Defense.  The final salvo of the attack came in the form of a Dallin Cutler corner kick from the near side. The kick was perfectly placed, finding gaps in the defense, and setting Michael Turner up to finish the play with a hard header past the goalie.

With a final score of 2-1, ASC makes its way past Orange County FC into 2nd in the division, and 4th in the power rankings nationwide.  Still undefeated, ASC heads to Orange County on Wednesday in its next and crucial test in pursuit of the NPSL championship.