26 Jul

National Semifinal Preview: ASC vs. NY Cosmos – July 27, 2019

After winning the first three rounds of the 2019 NPSL playoffs in dramatic fashion, ASC San Diego is headed 2,700 miles across the country this weekend into Long Island, New York. They will play a historic semi final match against a long standing and storied team the New York Cosmos. The winner will move on and play either Cleveland SC or Miami FC for the opportunity to win the 2019 NPSL National Championship.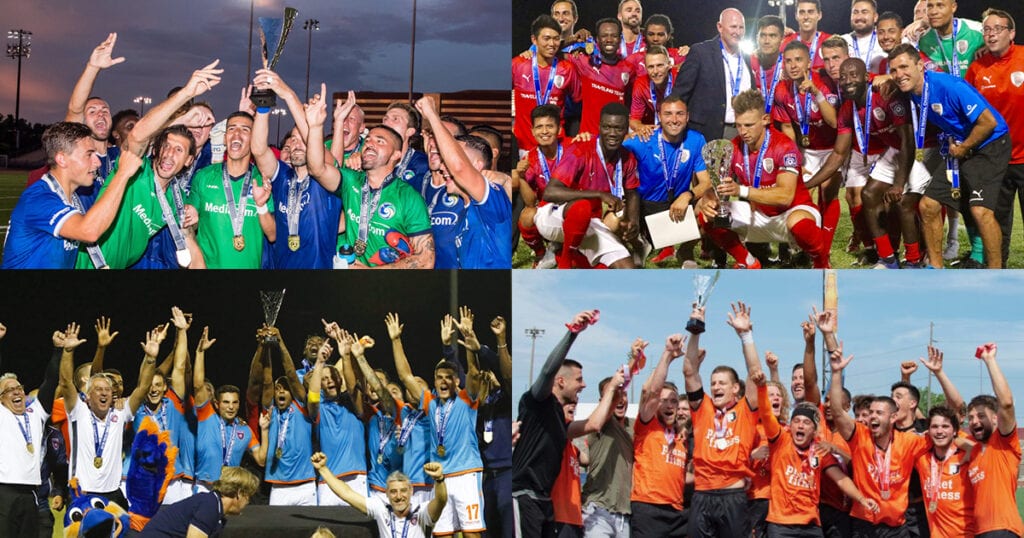 At the beginning of this season ASC set goals for themselves. With an extraordinary amount of training, teamwork, and professionalism, head coach Ziggy Korytoski and his men met those goals and finished the regular season in position to move forward to the playoffs (12-5-1).
Winning all three matches despite having to overcome the hurdles of traveling for all three, playing against and beating the top finishers from two different regions, and surviving immense heat in their win vs. FC Arizona. They are now on route to the dream scenario of winning a national title.   
On the other side of the country, The Cosmos are on a similar trajectory and have had a near perfect season. They finished first in the North Atlantic Conference (13-0-1) and cruised through their first 3 playoff rounds while having home pitch advantage throughout. They most recently beat FC Baltimore to take the Northeast Region Conference and move on to meet ASC San Diego in the 2019 NPSL National Semifinal . 
A team with roots deeper than any soccer club in the United States, the Cosmos were one of the world's most recognizable soccer teams in the peak of their existence during the 70's and into the 80's. At one point, fans saw football legends, Carlos Alberto, Johan Cruyff, Giorgio Chinaglia, Franz Beckenbauer, and of course if not the greatest, one of the best footballers of all time – Pele – all take the field wearing the Cosmos crest. Despite their success during this time, the league was unable to sustain itself. Eventually being dissolved in 1985, the Cosmos would not play a competitive match until their rebirth in 2010. Now in 2019,  the Cosmos are led by a billionaire ownership group, with businessman and long time soccer fan Rocco B. Commisso at the helm, the newest majority owner of Italian football giants ACF Fiorentina has catapulted the Cosmos to dominance in the NPSL. Although Cosmos fans no longer see Chinaglia and Pele lighting up the scoreboard as they did 4 decades ago, New York still boasts a prolific scoring side. Their new talisman, Bledi Bardic, is one of the league's top goal scoring leaders. Known for being deadly from long range, ranked #9 in the NPSL and #2 in the Northeast Region, Bardic has found the back of the net 10 times in just 14 regular season matches. ASC San Diego defenders will be keen to know where he is on the field at all times. With every single player on the Cosmos roster with some professional experience, Saturday's Semifinal will no doubt be one of the toughest matches ASC San Diego has ever played.
Impressive as that might seem ASC definitely has their own fire power and skill to get between the pipes. Their strike team of Elijah Rice, Christian Enriquez (named one of the league's top midfielders) and Dallin Cutler have a combined 18 goals and 16 assists on the regular season. With the addition of Ozzie Ramos, Mike Semenza and Felipe Liborio, this offense is the lethal combination that has shown that they know how to control the ball as well as the tempo of a match to wear their opponents down and claim victory. 
The defensive side of things is relatively equally rounded. The Cosmos back end kept their opponents to an incredible 4 goals against during their 14 regular season matches. While ASC's net minder Jean Antoine and team captain Kuba Waligorski combined with the likes of Michael Kafari, Sergio Enriquez and Khadim Seye earned a huge 10 clean sheets and allowed only 13 goals against in 18 regular season matches.  This will definitely be a battle of will and finesse in order to move to the championship round next weekend. As coach Ziggy's motto goes – any team, any time, anywhere…
ASC San Diego will be hosting a watch party at Woodstock's Pizza in Pacific Beach with free appetizers and 10% off orders while you cheer your hometown soccer heroes. The match will be broadcast on www.mycujoo.tv if you can't make it to the watch party.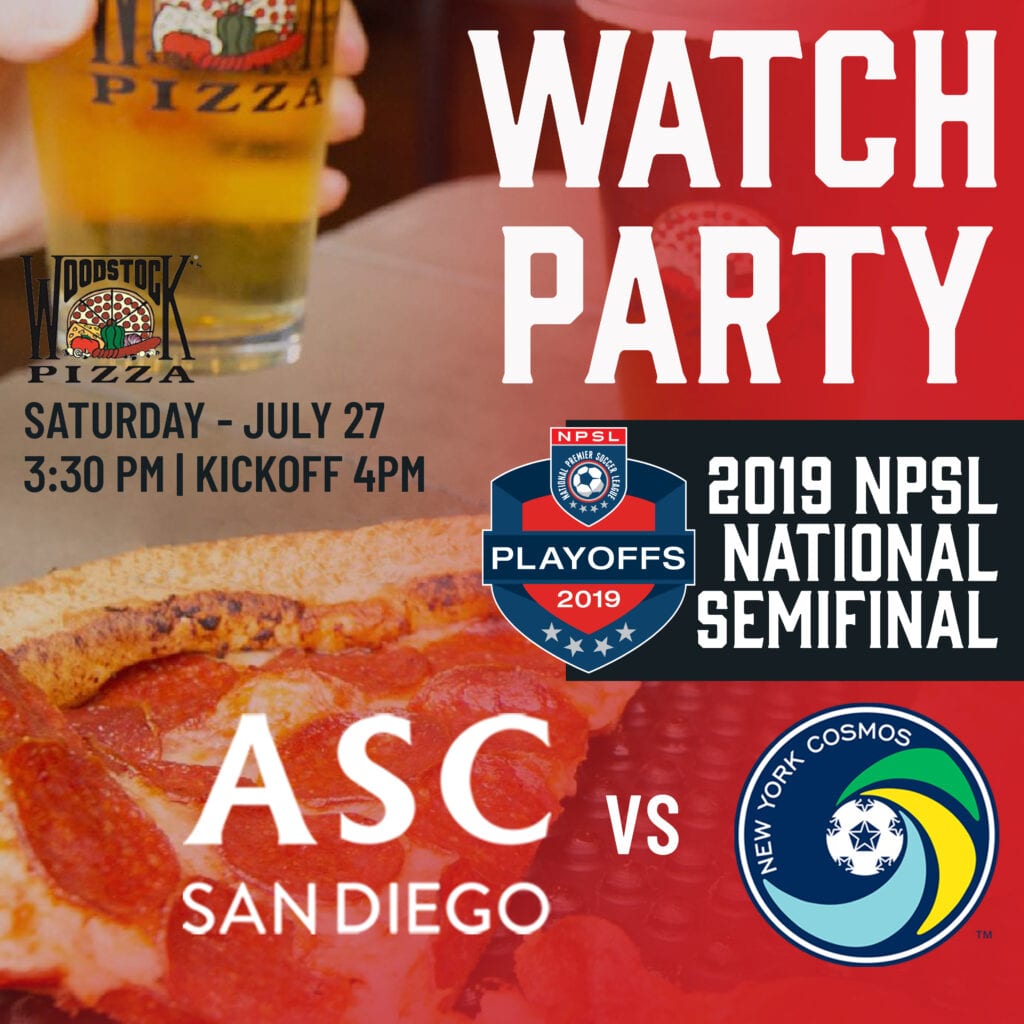 —– MATCH PREVIEW PRESENTED BY SOCCER AMERICA —–