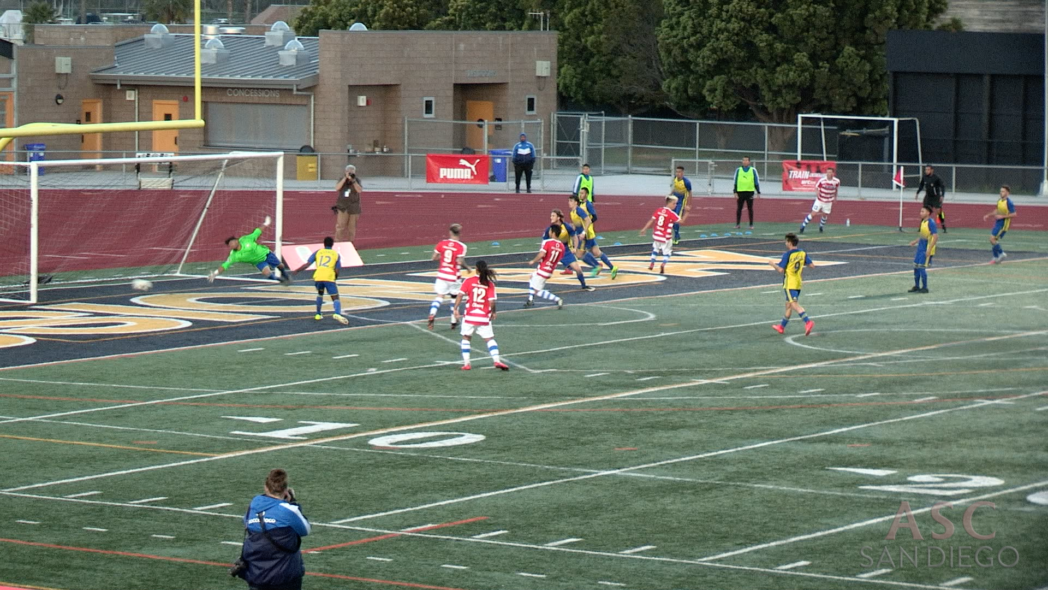 02 Apr

Play Analysis – Doug Andrade's Late-Game Equalizer vs. FC Arizona

This week's play of the game against FC Arizona was not only a clutch equalizer, but a great example of attack oriented movement onto a cross, from start to finish. Let's break it down!

The play begins with the change  of possession in the midfield (9 seconds). At this point, it was late in the game and FC Arizona had moved into a defensive posture,  with 10 players in their own half, defending a 3-2 lead. ASC's central players have just controlled a clearance, and aim to move the ball out wide to defender Frankie Sanfilippo (#2).

As soon as the ball is played to Sanfilippo, FC Az quickly applies pressure via their nearest midfielder. This opens up space for ASC's Michael Turner (#13), who immediately recognizes the opportunity and makes an incisive run forward.

Before receiving the ball, Sanfilippo looks around to asses the defense and locate his teammates.  He quickly spots the incoming defender, and makes an immediate pass, leading Turner down the line with a perfectly weighted ball. This single pass takes AZ's midfielders out of the  play, and creates an opening, allowing ASC's attackers to flood into the box towards goal.

Seeking to capitalize on their advantage (14 seconds), ASC executes their next few movements with timing and discipline. Each player's run is designed to create space for the man next to him, and while Matt Turner runs onto the pass from Sanfilippo out wide, everyone within the box is lined up ready to connect with the ensuing cross.

FC AZ's back line adjusts well, retreating backwards to defend, and covering ASC's 3 attackers in the box man for man. When Turner plays the ball across (16 seconds), Dallin Cutler (#8) breaks into a  crucial front-post run, and draws 2 defenders to block his would-be shot. In a moment of brilliant spacial awareness, Cutler dummies the cross and allows the ball to continue, taking his 2 defenders out of the play, and creating even more space for the ASC attack.

With Matt Clare (#9) tying up the defender at the back post, Doug Andrade (#11) is wide open. Turner's pass is perfect, and presents Andrade with a sitter just atop the 6 yard box. Andrade guides the ball into the far corner with precision and ease, to notch the tying goal.

Such a fast, well-executed attack is an absolute joy to watch unfold. All the cogs in the machine churned together in unison and resulted in a well-deserved goal. While clearly, the perfect cross from Turner, and Andrade's perfectly-placed shot were the stars of the play, they would not have succeeded without the head's up play from Cutler and Clare. It's this sort of unselfish, coordinated, high-intensity soccer – even in the final seconds  of extra time – that truly sets this ASC team apart, and will carry them throughout the season.