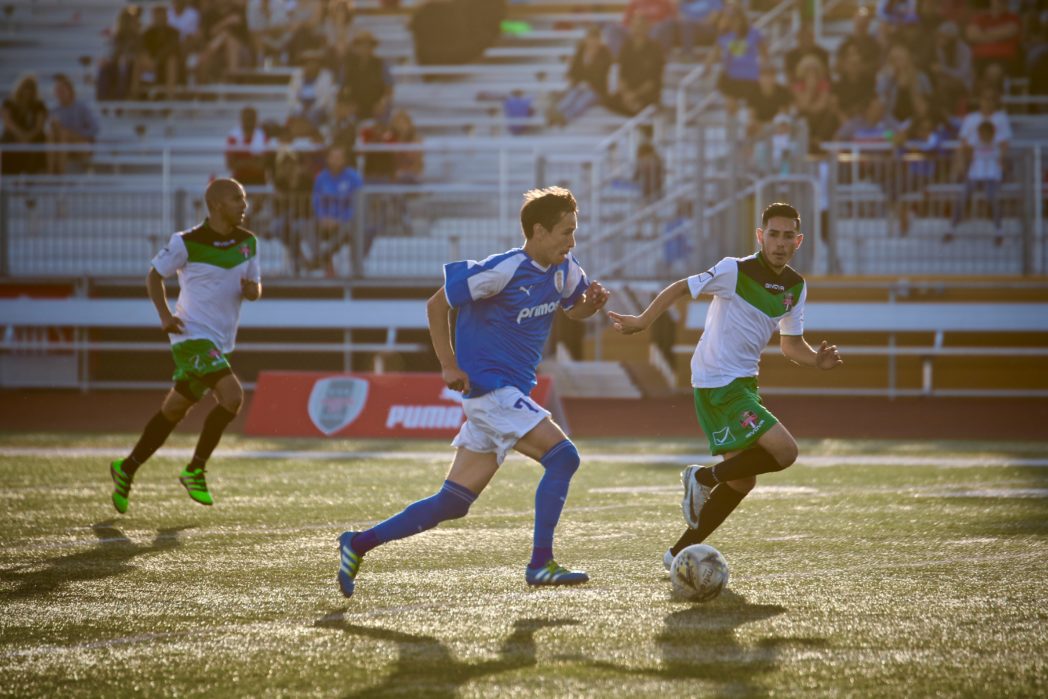 18 Apr

Play Analysis: Eric Avila's Goal vs. Oxnard Guerreros
A hard-fought match…
ASC's match against the Oxnard Guerreros was a physical, full-team effort from start to finish. Both teams left it all on the field on Saturday.  The difference was ASC was able position well and and give that extra effort in key moments resulting in scores.
There were a few solid candidates, but the play of the game Saturday comes from none other than number 7, Eric Avila. Avila was all over the pitch, and demonstrated his class with the early go-ahead-goal.
The play starts off as a harmless long ball that was struck perfectly by number 3, Luis Cardona. Eric Avila does that hard work by running onto the ball, and controlling it beautifully to number 6, Sean Callahan.  Callahan assess his options and sees number 8, Dallin Cutler streaking down the wing.
Callahan continues his run, drawing his defender with him, and creating space for his teammates at the top of the box. Cutler, who had all kinds of room on the play, lifts his head up and is looking for open teammates. Avila notices the pocket of space that was created by Callahan's run, and moves into position demanding the ball. Cutler sees him, and instead of whipping in a cross, he plays Avila into the open space.
What happens next is pure quality from the former Toronto FC standout. With the Guerreros defense closing in, Avila takes a quick touch, bringing the ball to his stronger right foot. Positioned well, Avila strikes the ball with pace and accuracy. He curls the ball around the defender, into the top corner, hitting the side netting. The outstretched keeper had no chance!
A thing of beauty, and special to watch. Eric Avila really made "something out of nothing" with the opening goal. What really stands out was how easy he made it look. We're looking forward to seeing more entertainment on the pitch from Mr. Avila!
Make sure to catch ASC San Diego's next home match versus FC Golden State to see more spectacular plays from your team. Click the image below for tickets!